Micro Cornate @ Fata sull'Adda (Cornate d'Adda - MI) 20.07.07
English version by Gilly_Sephira - Pics by Drex

Micromusic crew returns in Italy to have a good time on 21 st July.
They've chosen a place in Brianza (Cornate d'Adda), a little open air pub (the Fata sull'Adda ) that you can reach going along a dirt road just next to the stately building of Esterle, a power station.
You can park your car less than 200 metres from the place and while walking you can see the Adda river on the left, which seems a liquid and black snake going so fast because of the current. On the right there's the railing that bounds Esterle's area, whose building reminds of a church rather than something industrial. The sound that comes out from the structure is huge, penetrating and relaxing at the same time and the imagination becomes powerful trying to find a way to use it or even a way to get into the building among old switchboards , turbines, archives.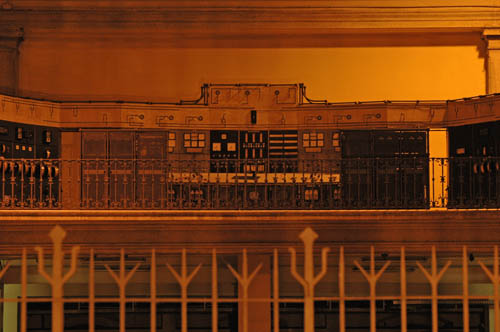 This evening opens the door to sonorities we already know and to new other ones.
We haven't seen Wanga since last year at Wagenmeister in Basel; this evening he introduces us his cute violet guitar and his little computer, those ones used by kids.
All seems going in a good way, but some damned hardware problems rudely interrupt the set just at the beginning. A little chat with him, before going home, confirms this and make me feel another time the incredible calm of this men, a particular of his personality that can istigate an almost murderous tenderness (like the funny monsters on his little computer do).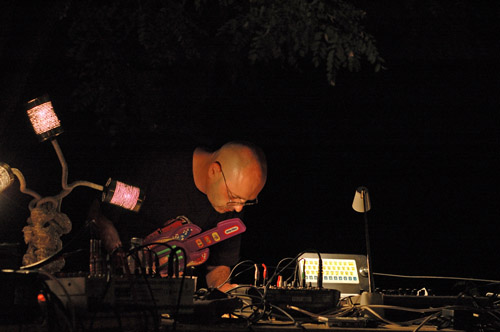 I think that Schmx (web sites?) enjoys Italy very much because of his eternal presence in occasion of rare micromusic events within our borders. He's always there with litres of beer and ardour in body and this time with a little luggage of italian word perfectly learnt. The prankster sort hits again and new hardware problems (promptly fucked off) come out in the top moment and make the atmosphere to blow up in a second. Luckly his set has taken more time than Wanga's, so we have enjoyed for a little time the sound of his couple of AtariST. I think this guy is one of the most euphoric and craziest among all the artist I saw, characters that are reflected in his music too.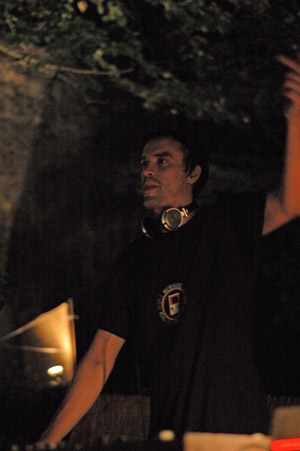 The first new artist we find is Bubblyfish , a very thin and sweet oriental girl directly came here from N.Y.C. ("it's in my blood" her words in the car while we were coming back). The tones of this set present a more serious character, it is more proper for a static listening with only a punctual foot ready to keep the rhythm on the floor. The 80-100 bpm have all the potentialities to transform the music in a sensual melodic force; sounds are very pleasant and they're taken out of her 4 game boys lying on the "working table".
She's the first women I see and I know addicted in micromusic; in these ambits women are rare like water source in a desert, this time I think we've found a good one.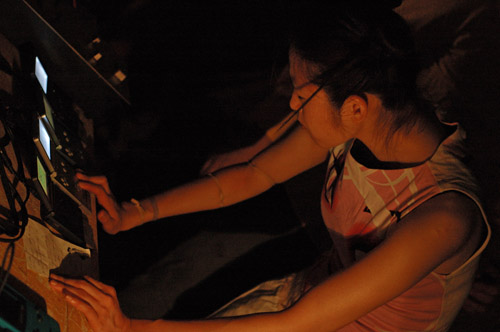 Pocketmaster is another new of this night, a duo from Basel. The first sight of these guys suggest something like they're professors of a technical or scientific subject, but this thought immediately change when they put their hands on their instruments, it's seems almost a transfiguration!
They're possessed and carried by their same music, by a musical whirl, very rhythmical and melodic; pieces of music that you can catch but that are able to disappear in a second, in order to appear again and make the attention stunning.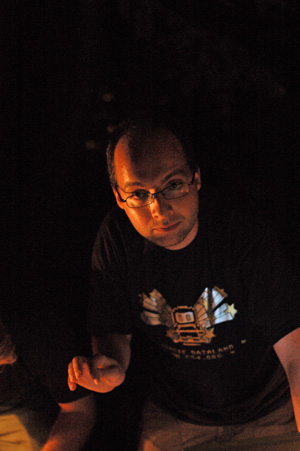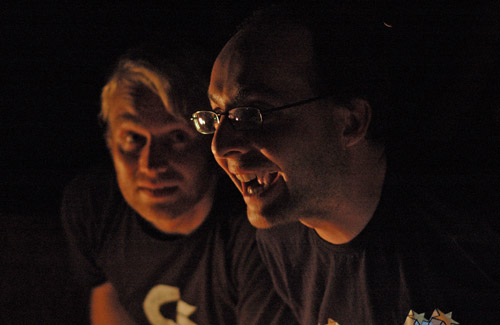 Veterans of this night are Tonylight , his friends 20 Degrees of frost from Milan/Brescia and Nrgiga from Bologna.
Their proposal is made up of techno and distorsion and the people in front of them become more delirious every single track. These artists are more regular than others, they're calculating, they're concentrated on the facial expression, maybe more technical and attentive.
It's amazing how people enjoy this kind of music, we perfectly know how micromusic is unknown in Italy; a lot of them ask information, look with a big curiosity the unusual instruments on the tables and get nearly naked to dance, they embrace each other, they jump like spring. Pure fun.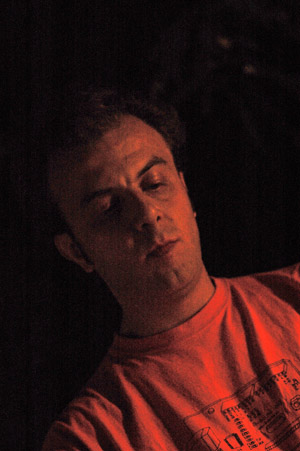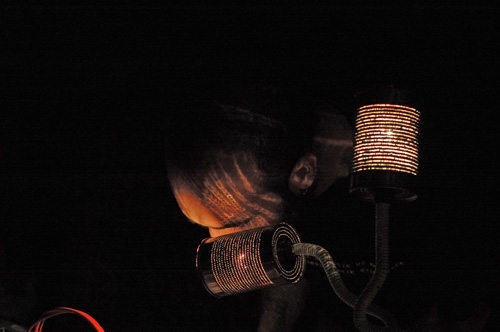 Peppo Lasagna leaves his sign during these performances with a new creation that has directly come out from the LEP (Popular Electronic Laboratory); a square with red leds that compose different light drawings which never stop.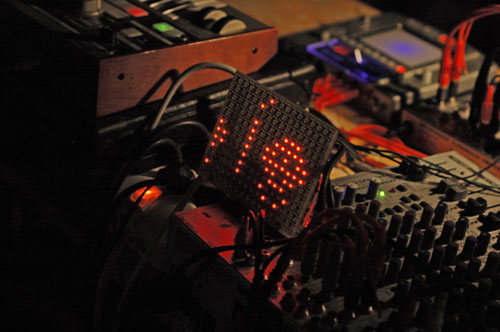 The last italian veteran who closes the night is Postal_M@rket , he has been a good surprise, since his name wasn't in the line up. This guy seems a real spring, an uncontrollable rage very difficult to stop once started; I'd bet everything that he could have play, move frenetically and fill us with his perfect music all night long if Fata sull'Adda didn't have a curfew. Maybe I'm doing it again, but I say that he's one of the most promising micromusic players in Italy.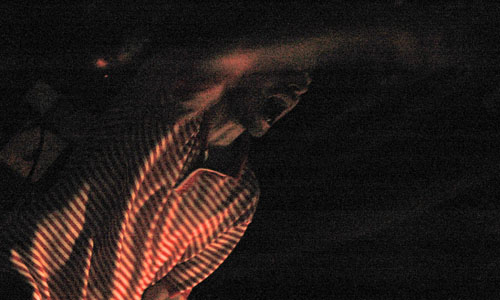 I'd have seen a set of Bacalao with pleasure, but I think we must postpone this eventuality on an undefined date! Nevertheless we are satisfied by the great sound of the power station and by the smily conversation with Bubbly in car on the return road.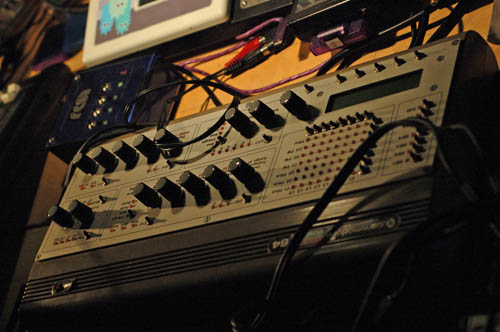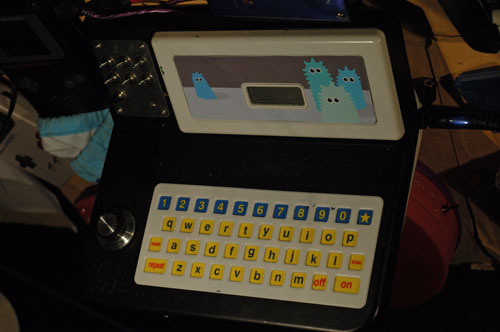 ___________________________________--
Next day , triple djset by Otolab, line up unfortunately reduced, no pics, too dark. Bobbies declared party closed at 2:00 am.