MICROMILANO 8BIT MUSIC - COX 18 - Milan, 24/03/06
english translation by Gilly/Sephira. pic by drex and electropixel
Get ready to dance humans!
Manimal eat_rabbit and hairy monster Hello are coming to put Milano up side down.
Local Tonylight will be here also for a special, Gameboy purist set. Nanoloop Powa !
This kind of music is slowly taking place in the Italian scene following periferic canals. We can't preview the destiny of these sounds, because music in Italy follows a different path than other countries, especially for delays in conquering sonorities (in addition to Micromusic we can notice the same situation happened for other kinds of music like minimal techno or electroclash).
8bit is recovering success thanks to commodore64, the SID (which is the chip settled in its heart), Amiga, Atari and of course consolle for videogames and gambeboys that work with the aid of cartridges created by brillant minds.
Something more started on 2000, with the contributes of Johan Kotlinski's Little Sound Dj and Oliver Wittchow's Nanoloop (a sort of synth sequencer for gameboy). Permission of Nintendo are market affairs, what's important is the creative use of these objects, which can be appreciated on Micromusic.net.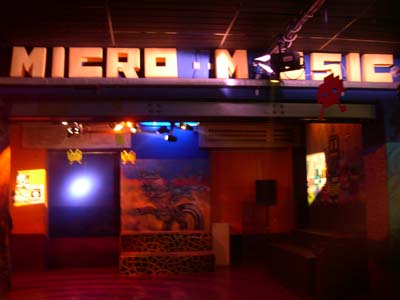 We can enjoy the presence of Postal_m@rket, a young Bolognan guy already seen at Goganga night (Milan). His performance underlined the increasing level of this kind of music whose commercial appeal depends on the float of USD in the music industry reserves. Music business is too obsessioned by burocracy and I don't think it will be interested in legal affairs concerning different Gameboy using.
Electropixel made up part of the graphic scene (Space Invaders) in low resolution.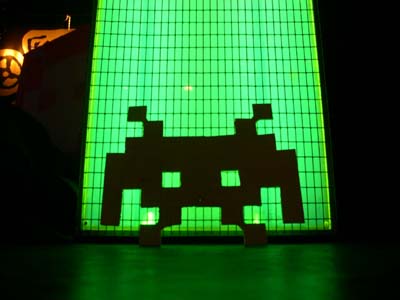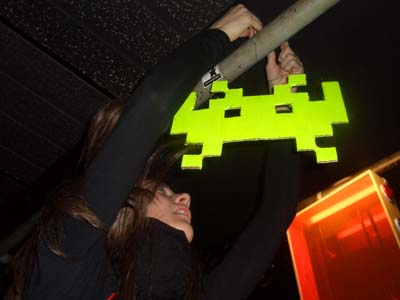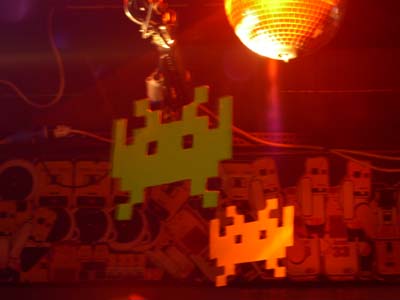 The first going on the top is Tony, Tonylight because of his lamps which create the light scenography that gives a little bit of color to this evening, like the fire proof shirt he wears (where did he left the astronaut gloves?), it looks like a sci-fi movie uniform.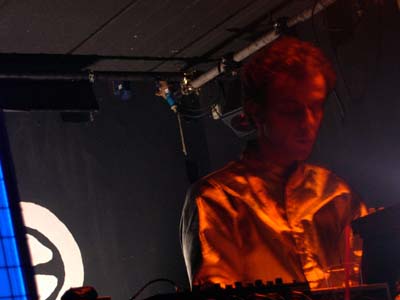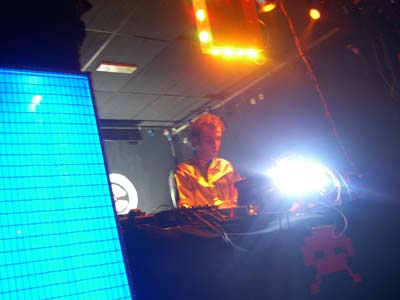 His live set can be considered a test, because an entire game boy live set is dangerous, 8bit sonorities are not easy to handle and can result a bit logorrheic, such as sounds of first videogames. Tony starts well and go straight, he exceeds the test without provoking crisis in the dancing public.
The second artist is Hello , directly from London. He's further from the pure gambeboy sound (like many of the Micromusic artists). He starts with known notes then personalises his performance with a relaxed electro style and then he starts again with a track similar to hit singles and a cover of Boney M that sounds like an antidote for all kind of palsy . The continuation is a non-stop acceleration.
This is a way the Web defines him with: Hello is a micromusic data popstar, 8bit turbonerd, bass jacket astro blaster, acid masher and amen-trasher, Hello does exactly what it says on the tin and is nice to meet you.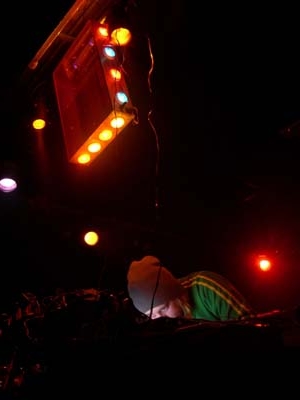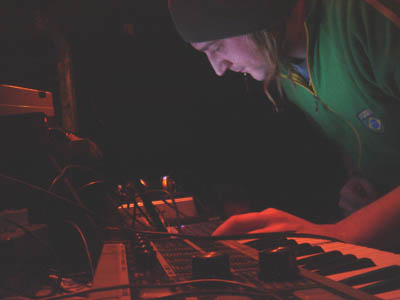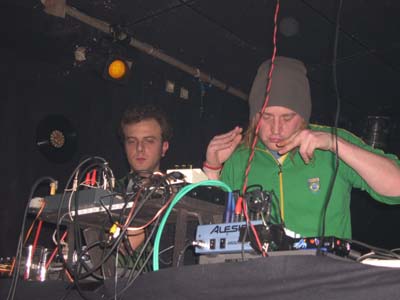 Eat Rabbit comes from Lyon and we are not gonna waste so much time to say that he's one of Micromusic.net users. He's a suggestive performer, he's movements are good and he wears a smily rabbit mask, maybe a little bit crazy like the Hatter of Wonderland without the hat, free ears. Vocoder and sound of electrified cartoons, it's a patchwork of keyboards hibbled by hamsters, puppies which play metallic drums, low and hobbling notes and vocals interludes like advertising for ducks village.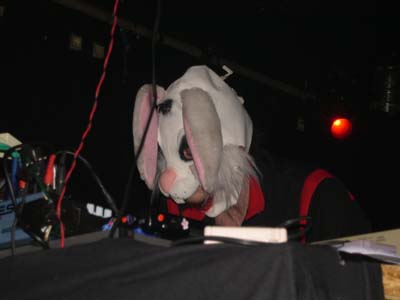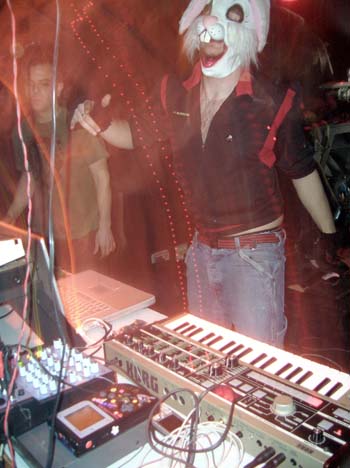 Eat Rabbit's idea of micromusic is very elaborated because of his talent, his Microkorg and the way he builds the tracks with.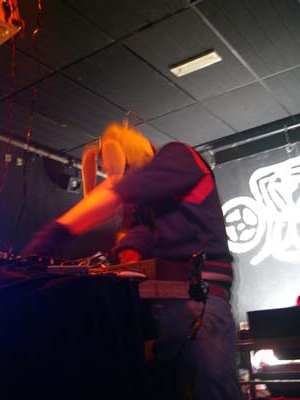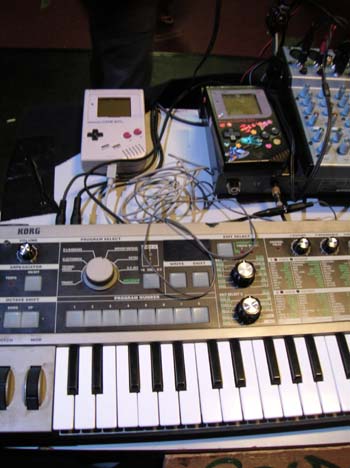 Cox18 is probably the squatted space more active in town. At the Bookshop lots of counterculture books, as it was in the previous one since 20 years and more...
Some Mp3 from the live sets follow.
Tonylight Live set:
Postal_m@rket dj set:
Parte 1 (22.728kb)
Parte 2 (19.014kb)
Parte 3 (21.841kb)

More deeply on C64 SID music, High Voltage SID collection is a web site that leaves at free disposal a huge archive of tracks produced with this sound chip. Installing a player, for Windows too, is possible to listen to over 30.000 files for download, even on one go.