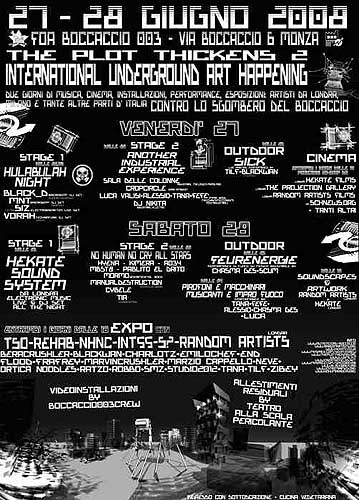 FOA BOCCACCIO 003 presenta

VENERDI' 27 E SABATO 28 GIUGNO 2008

THE PLOT THICKENS 2
CONTRO LO SGOMBERO DEL BOCCACCIO

Due giorni di musica, cinema, installazioni e performance...


Due anni dopo il Museo del Postumano ( www.estremirimedi.org/nohumannocry ), Monza ed il Boccaccio tornano ad essere teatro di una grande manifestazione artistica, in occasione del tour europeo di due collettivi londinesi, RANDOM ARTISTS ( www.randomartists.org ) ed HEKATE ( www.hekate.co.uk ) che con le loro performance animeranno gli stabili della FOA Boccaccio.

Si tratta di due gruppi di artisti con alle spalle anni di esperienza nel campo della sperimentazione artistica, conosciuti in tutta Europa, giungono in Italia dopo aver fatto tappa a Parigi e Tolosa, nell'ambito del tour THE PLOT THICKENS 2.
Ad arricchire la due giorni sarà una nutrita partecipazione di tanti artisti locali, che renderanno il Boccaccio teatro di una variegatissima gamma di appuntamenti: due palchi per la musica, tre sale aperte pronte ad ospitare ogni tipo di opera d'arte, proiezioni no-stop presso la sala cine-teatrale e ovviamente il cortile, per l'occasione tramutato in spazio scenico all'aperto.

Si torna quindi ad animare ogni angolo della vecchia fabbrica dismessa, rivendicando con forza l'esigenza di dare continuità all'esperienza del Boccaccio.

Ecco il programma delle giornate suddiviso per spazi

VENERDI 27 GIUGNO

SALA CINETEATRALE
dalle ore 21.30
cineforum
HEKATE FILMS (London)
PROJECTION GALLERY (London)
PLAYLIST from www.schnews.org.uk
info:
www.theprojectiongallery.com
www.schnews.org.uk

CORTILE
VIDEOINSTALLAZIONE by BOCCACCIO 003 Crew
dalle ore 23
SICK by TILF & BLACKWAN (TIMELAPSES crew)
performance di live painting su installazione video

SALA 1
dalle ore 22
SALA DELLE COLONNE
industrial/melodico popolare
http://www.myspace.com/saladellecolonnecronache
CROPCIRCLE
dark-ambient
http://www.myspace.com/thecropcircle
LUCA VALISI-FEFE'-TANA
impro bass+macchine e meccanicismi post industriali
a seguire DJ NIKITA
industrial-electro-alternative
info:
www.ludmila.it
www.creativefields.net
www.rosaselvaggia.com

SALA 2
dalle ore 23
HULABULAH NIGHT
powered by BLACQIREX
black_d-djset,breakbeat all styles(blackqirex-newspecies)
mnt-djset,breakbeat all styles(newspecies)
siz-liveset,electrobreaktek(latitanz)
vorah-dj set,technofunk breaks(zapotek)
http://www.blackqirex.org/


----------------------------------------

SABATO 28 GIUGNO

si apre alle 16,
musica diffusa, soundscapes, artwork ed istallazioni by HEKATE SOUND SYSTEM (London)

SALA CINETEATRALE
dalle ore 21.30
HEKATE FILMS (London)
PROJECTION GALLERY (London)
PLAYLIST from www.schnews.org.uk
info:
www.theprojectiongallery.com
www.schnews.org.uk

CORTILE
VIDEOINSTALLAZIONE by BOCCACCIO 003 Crew
dalle ore 23
FEUERENERGIE
spettacolo teatrale a cura della compagnia CHASMA GES
dalle ore 24
PIROFONI E MACCHINARI MUSICANTI E IMPRO FUOCO
performance by TANA, FEFE', ALESSIO, LUCA, CHASMA GES

SALA 1
dalle ore 23
HEKATE SOUND SYSTEM
da Londra electro music
live & dj set
all the night

SALA 2
dalle ore 22
NO HUMAN NO CRY ALL STARS
Hyena - Kimera - A034 - Mbst8 - Pablito El Drito
Manualdestruction (Untravelled ground)
Cybele
Tia (Technoresistance)

---------------------------------

Entrambi i giorni bar & cucina vegetariana

Ingresso con sottoscrizione

FOA BOCCACCIO 003
via Boccaccio 6
MONZA

www.autistici.org/boccaccio

---------------------------------

*RANDOM ARTISTS
Random Artists is a collective, based in London, which has been putting on open access exhibitions in squatted venues for the last 5 years. Tackling at a grass roots level, the need for creative input and the understanding of autonomous responsibility when interacting with our surroundings.
This care-in-the-community arts group, are exploring the link between the scientific and the artistic, playing on the edge of natural and technological. Operating a cultural experiment of open-access shows, free to exhibit and free to enter, these spaces of reclaimed freedom have been making a significant contribution to an alternative art world.
The general ethos of our shows is to re-use the so-called 'waste' of modern urban society, encouraging others to be proactive toward our environment. Recycling the unwanted and rejected materials. Using abandoned properties which we repair and maintain, we create living and working facilities, reclaiming space that has no other immediate purpose. These are used, respectfully and intelligently, for genuine community development, creating fields of opportunity for a future at no cost or harm to anyone else.
With the organising of peer lead community art events we have managed to encourage 100's of artists, musicians, writers and performers, who otherwise would have no outlet, to display their work in a peer environment. Providing a platform for free development, and through self-involvement and skillsharing workshops, people have made a difference to their lives.
The exhibitions have been a successful example of autonomous freedom. They have been a birth place for emerging talents, and have created the room for confidence and inspiration to grow. We bring together anyone open to shared spaces and free regulation, facilitate the building of social networks, allowing people to express themselves and communicate on more levels than the basics of language. A collaboration of ideas united around artistic proposals and concepts. giving everyone a chance to bring what they have to offer and share it on equal grounds with everyone around them. Making art into life and life into fun.


*REHAB
Attivi da quattro mesi, abbiamo l'ambizione di proporre un calendario di incontri culturali, mostre e dj set di qualità, senza cedere alla tentazione del commerciale, ma cercando di mantenere vivo lo spirito underground che caratterizza sia il background dei membri fondatori sia lo spazio fisico entro il quale operiamo; rehab infatti vive all' interno del circolo culturale polifunzionale "Pergola", storica location milanese sin dal 1990. Siamo aperti il giovedì il venerdì e il sabato di ogni settimana, dall' aperitivo fino a notte fonda, e al ciclo di mostre affianchiamo un servizio di ristorazione, con drinks alcoolici e non alcoolici e tavola fredda. In una città arida ma potenzialmente stimolante, troppo spesso divisa in cerchie sociali tra loro ostili e incomunicanti, vogliamo inserirci come uno spazio vivo, fertile terreno di idee votato all' onestà culturale e alla promozione di talenti veri.